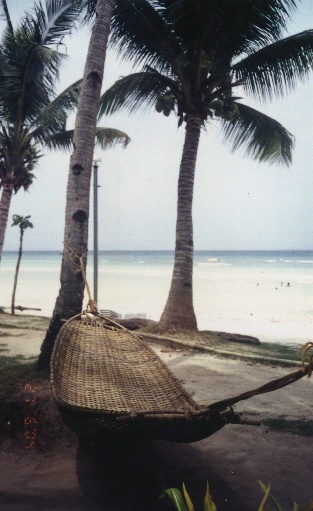 Maajung Adlaw!
We now have a new home at www.aybm.org. Please take time to visit us there.
The Association of Young Boholanos in Metro Manila, Inc. (AYBM) is a non-stock, non-profit organization of Boholanos, either by descent, affinity or residence, aged 18 to 35 years old, and are presently residing, working, or intending to work in Metro Manila and in nearby cities and municipalities.

The organization was formally organized in the early part of 1997 after a series of discussions among friends. The organization is registered with the Securities and Exchange Commission (SEC). Its founding Chairperson/President is Elmar Galacio, lawyer and former student leader.

Past Chairpersons/Presidents of the association include Gilbert Lumantao, Myra Vicente and Willy Ramasola. Recently, the association elected a new set of officers led by Alan Cajes, Chairperson of the Board of Trustees and Atty. Nelson Getigan, President.

(Photo: Hammock at Dumaluan Beach Resort, Panglao, Bohol by Gilbert Lumantao)
Board of Trustees

The Board of Trustees of the Association is composed of Alan Cajes, Chairperson, Myra Vicente-Olarte, Vice-Chairperson, Atty. Nelson Getigan, President, Atty. Elmar Galacio, Gilbert Lumantao, Feliciano Orihuela, Jr., Janet Dano, Mary Rose Molina-Edubas, and Atty. Leo Malagar.
The Executive Committe is led by Atty. Nelson Getigan who serves as President and chief executive officer of the organization. The other executive officers include Myra Vicente-Olarte, VP for Education & Training; Atty. Elmar B. Galacio, VP for External Affairs; Mary Rose Molina-Edubas, VP for Social Welfare; Atty. Leo B. Malagar, VP for Outreach; Maricris Valles-Jamora; Vice-President for Recruitment & Membership; Ma. Josephine S. Dano, Executive Secretary; Janette S. Dano, Treasurer; Vicente Racho, Press Relation Officer; Arlene Dupa, Auditor; and Atty. Armand Cavalida, Chairperson, Free Legal Assistance Program.
Our Mission*

*(Objectives of the organization as it appears on the Articles of Incorporation and Bylaws with amendments agreed in principle by the present Board of Directors)


Unify, consolidate and strengthen the bond of camarederie and solidarity among young Boholanos in Metro Manila.

Enhance their social and economic well-being and instill upon them the spirit of civic consciousness and a sense of community service and responsibility.

Welcome and extend assistance and support to Boholanos who are staying in Metro Manila particularly those seeking for greener pastures therein.

Initiate, undertake and support sustainable development programs and projects in Bohol.

Preserve and promote the Boholano culture and heritage.

Generate, manage and sustain linkages with individuals, groups, associations or entities sharing similar concerns, visions and objectives.

Please don't forget to leave a message for us, or for others who might be visiting our website, at our guestbook sign page. You may also read the messages left by others at the said guestbook here

(Photo: St. Joseph's Chathedral Bell-tower by Gilbert Lumantao)
Who are eligible for membership?


An applicant for membership must be at least eighteen (18) but not over thirty-five (35) years old and must either be a Boholano by birth/descent or affinity, or has resided in Bohol for a period of not less than one (1) year. He/she must be either presently residing/working or intending or planning to work in Metro Manila or in nearby cities or municipalities. Interested parties may send an email to:
info@aybm.org or
president@aybm.org

You are visitor no.





of this site.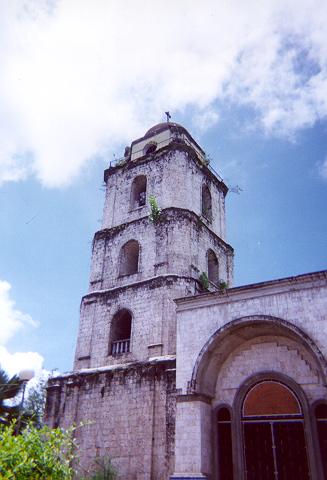 Bol-anon Yahoo Group
You are all invited to subscribe the official egroup of the Association of Young Boholano Professionals in Metro Manila, Inc. Its purpose is to promote and actively participate in the building of a lively Boholano community online. To join, send an email to this address:
bol-anon-subscribe@yahoogroups.com